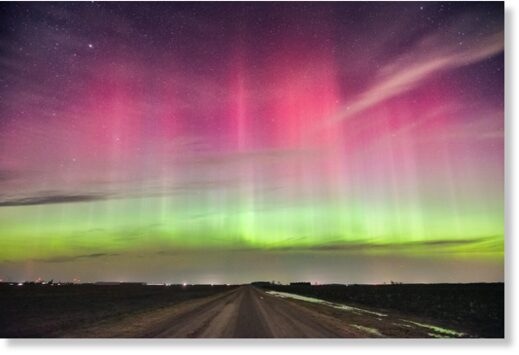 As soon as the sun set Thursday, extreme weather photographer
Peter Forister
excitedly headed for the hills. Forecasts had suggested that recent storming on the surface of the sun could set off auroras — brilliant dancing streaks of light, also known as the northern lights — in the Lower 48 states. For the first hour or so into his night, his camera picked up pretty but rather demure purple hues in the sky, which appeared just as a white haze to the naked eye.
Then, within 30 seconds at around 11 p.m., the sky lit up with vibrant red and yellow streaks visible to the naked eye. Forister sprinted up a hill with his camera and pushed through bushes that scratched and tore up his legs, but "it didn't matter," he said. "It was so exciting."
"You just step back and jaw drop and just watch the show for a few minutes," Forister said. "It was really remarkable, like the kind of show that will make you stop and just catch your breath."