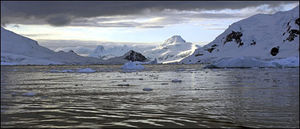 The East Antarctic ice sheet has been losing mass for the last three years, according to an analysis of data from a gravity-measuring satellite mission.
The scientists involved say they are "surprised" by the finding, because the giant East Antarctic sheet, unlike the west, has been thought to be stable.
Other scientists say ice loss could not yet be pinned on climate change, and uncertainties in the data are large.
The US-based team reports its findings in the journal
Nature Geoscience
.
The data comes from Nasa's Gravity Recovery and Climate Experiment (Grace) mission.
Grace has previously shown that the smaller West Antarctic and Greenland ice sheets are losing mass.