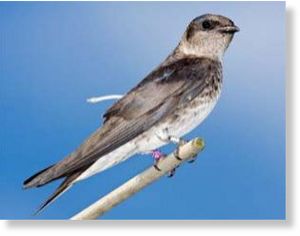 A novel way of fixing tiny recorders to songbirds has revealed how they dawdle on their migration south to their wintering grounds, then race northwards again in the spring. And birds that breed together may winter together too - a finding that may have profound implications for the conservation of
dwindling
songbird species.
Biologists have long wondered about the details of migratory songbirds' intercontinental wanderings, but tracking the tiny birds has proven nearly impossible.
Now Bridget Stutchbury, an ornithologist at York University in Toronto, Canada, and colleagues have found a way to do it.
In Pennsylvania during the summer of 2007, the researchers fitted 14 wood thrushes and 20 purple martins with fingernail-sized "backpacks" that record the time of sunrise and sunset each day.