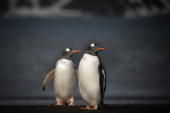 Yet another example of the 'research' masquerading as science that is used to reinforce the man-made global warming fraud. One of the difficulties the green zealots have had is that Antarctica has been not warming but cooling, with the extent of its ice reaching record levels. A few weeks ago, a study led by Professor Eric Steig caused some excitement by claiming that actually West Antarctica was warming so much that it more than made up for the cooling in East Antarctica. Warning bells should have sounded when Steig said:
What we did is interpolate carefully instead of just using the back of an envelope.
To those of us who have been following this scam for the past two decades, 'interpolate carefully' makes us suck our teeth. And so it has proved. Various scientists immediately spotted the flaw in Steig's methodology of combining satellite evidence since 1979 with temperature readings from surface weather stations. The flaw they identified was that, since Antarctica has so few weather stations, the computer Steig used was programmed to guess what data they would have produced had such stations existed.
In other words, the findings that caused such excitement were based on data that had been
made up
.