New Orleans -- Three years after Hurricane Katrina slammed into the Louisiana coast, New Orleans residents on Wednesday again confronted the prospect of an evacuation as Tropical Storm Gustav loomed.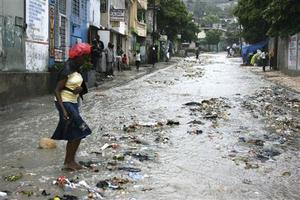 ©REUTERS/Evens Felix
A woman walks during rainfall caused by Hurricane Gustav in Port-au-Prince August 26, 2008.
Not since Katrina struck on August 29, 2005, have residents faced a forced departure from their homes and businesses as many still struggle to rebuild their lives in a city famed for its jazz clubs and Mardi Gras festival.
Storm levees broke under the onslaught of Katrina, flooding 80 percent of New Orleans and killing almost 1,500 people in the city and along the Gulf of Mexico coast. The hurricane caused $125 billion in wind and flood damage.
With Tropical Storm Gustav swirling near Cuba and likely to enter the Gulf of Mexico as a hurricane this weekend, Louisiana Gov. Bobby Jindal said an evacuation could begin as early as Friday -- three years to the day after Katrina inundated New Orleans.