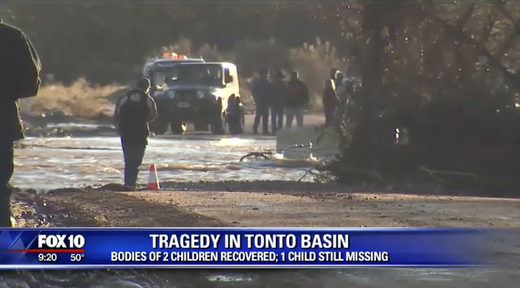 The bodies of two children were found Saturday, but searchers were still looking for a third child who went missing after a
truck they were in was swept away
while attempting to cross a runoff-swollen Arizona creek
in what a sheriff's official called a "horrible and tragic incident."
Gila County sheriff's Lt. Virgil Dodd said the first body found was of a 5-year-old boy. The second child's age and gender weren't provided in a statement released by the Sheriff's Office.
Dodd said the 5-year-old boy's body was found about 3 miles (4.8 kilometers) downstream of the crossing which had been closed hours before the truck tried to cross Friday despite barricades and warning signs.
Drivers "really need to not ignore that. It's very dangerous. It's very hazardous," Dodd said in announcing the first death. "In this case, this horrible and tragic incident ... that's what happens when you ignore these types of signs."
The Sheriff's Office said emergency personnel and law enforcement helicopters on Friday
rescued two adults and two children who also were in the military-style truck swept downstream in Tonto Creek
near the small community of Tonto Basin, which is about 52 miles (83 kilometers) northeast of Phoenix.