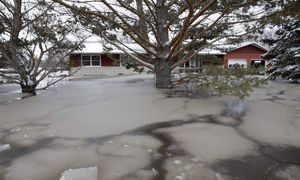 Bismarck - Demolition crews blasted chunks of ice near a huge ice jam in the Missouri River on Wednesday in a bid to open a channel, like pulling out a giant plug to drain a flood threatening the city. "We are cautiously optimistic," Bismarck Mayor John Warford said after explosives detonated on about 500 feet of ice just south of the jam. He said officials would have a better assessment Wednesday night but that water appeared to be moving.
Water backing up behind the dam of car-size ice blocks already had forced the evacuation of about 1,700 people from low-lying areas in North Dakota's capital.
Meanwhile, on the eastern side of the state, volunteers continued stacking sandbags to protect Fargo amid new concern over the rising Red River. After days of predicting a crest ranging from 39 to 41 feet, the National Weather Service settled on the higher number.