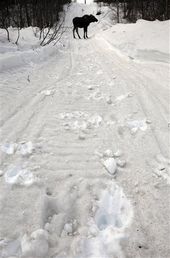 Alaska's Mount Redoubt erupted twice Thursday, spewing a more than 12-mile-high cloud that could drop ash on Anchorage for the first time since the volcano began erupting Sunday night.
The Alaska Volcano Observatory said the first eruption about 8:30 a.m. shot an ash cloud about 30,000 feet in the air, and the second eruption about an hour later sent ash 65,000 feet high - the highest cloud since the eruptions began. The larger eruption caused a mud flow into the Drift River near the base of the volcano.
Before Thursday's eruptions the volcano had been relatively quiet for more than a day.