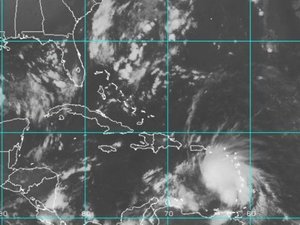 People in the Dutch Caribbean islands reinforced their homes and stocked up on emergency supplies Thursday as
Hurricane Matthew took a rare turn through the southern Caribbean ahead of an expected shift to the north.
Matthew was passing to the north of the islands of Aruba, Bonaire and Curacao during the night, before shifting on a course predicted to take it toward Jamaica, Cuba and Haiti over the weekend.
By late Thursday, Aruba was seeing some rain and sea surge had covered part of a road on the northwest side of the island. There were no reports of evacuations. In Curacao, some streets were flooded, and there was a light rain falling on Bonaire.
The so-called "ABC islands" of the Dutch Caribbean, which were under a tropical storm watch,
are usually spared from tropical storms.
Matthew's approach prompted long lines at gas stations and supermarkets. Authorities in Aruba said government offices would be closed Friday and Curacao's parliamentary elections were postponed until next week.
The government of Colombia also issued a tropical storm watch for its coast from Riohach to the Venezuelan border.