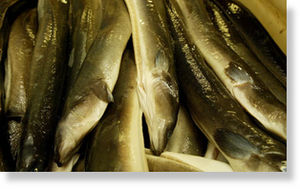 They ought to be wriggling through briny water and marshy flatlands in their hundreds of thousands right now.
But the mystery of the vanishing eels is troubling fisheries officials, conservationists and fishermen who for generations have hunted the curious animal.
A conference in Somerset on the plight of the eel, which was attended by experts from across Europe, has been hearing this week that the eel is in crisis.
The number of European eels across the continent has declined by as much as 95% in the last 25 years, the Environment Agency says. Officials report that the number of young eels arriving in Britain's estuaries, rivers and streams this spring is significantly down on last year. Andy Don, an Environment Agency fisheries officer who has studied the eel for 20 years, said: "There is no doubt that there is a crisis. People have been reporting catching a kilo of glass eels this year when they would expect to catch 40 kilos. We have got to do something."