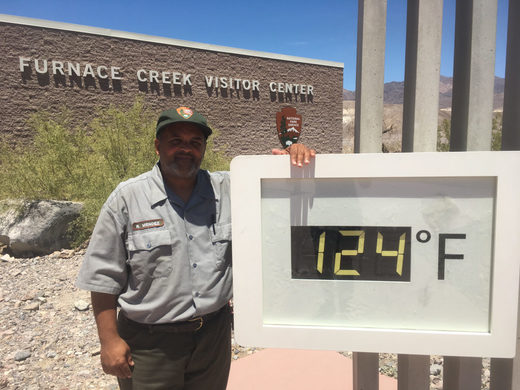 July temperatures in Death Valley have incinerated previous records.
With an average daily high temperature of 107.4 degrees Fahrenheit (41.9 degrees Celsius), July was the valley's hottest month on record, blazing through the former record of 107.2 degrees F (41.8 degrees C) set in 1917, the National Weather Service's Las Vegas Forecast Office (NWS Las Vegas) wrote Aug. 2
in a tweet
.
Temperatures in Death Valley in July blazed into the record books not only as the hottest month in the desert valley in eastern California but also as the hottest month ever recorded in the United States
, according to NWS Las Vegas.
During July, temperatures were at their lowest at around 5 a.m. local time, averaging about 95 degrees F (35 degrees C), Death Valley National Park representatives wrote in
a Facebook post
on Aug. 3.
"This is an extreme place to live and visit in the summer, especially this past month," they said.
A photo shared in the post showed a National Park Service (NPS) official posing next to the Furnace Creek Visitor Center in the park, leaning against a sign displaying a local temperature of 124 degrees F (51.1 degrees C).
Death Valley's highest temperatures during July were 127 degrees F (52.8 degrees C) on July 7; 126 degrees F (52.2 degrees C) on July 8; and 125 degrees F (51.7 degrees C) on July 31, according to daily temperature reports compiled by the National Weather Service,
The Washington Post
reported
.