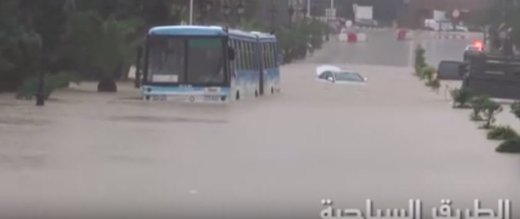 Villagers in the Governorate of Kairouan recovered the body of a young girl earlier today after she had been washed away by flash flooding on Friday. Elsewhere, two boys from the city of Ryadh in the governorate of Sousse were also killed during the flash flooding that saw large parts of the country's transport network rendered unusable due to heavy rains.
Speaking on
MosaiqueFM
, the girl's father Mohamed Lotfi Kotii explained that the three year old, who was one of seven, had been left on her own by her siblings. The girl had apparently been trying to locate her sisters when the storm broke on Saturday, causing the flash flood which swept her away.
Neighbors from their village of Rhima in Hajeb Laayoun, within the governorate of Kairouan had been searching the area since, finally locating the girl's body in a ditch earlier today.
The two boys killed in Ryadh were
reported
to have been swimming in flood water on Sunday, before being swept away by additional water. The bodies of the two boys were recovered by civil protection officers later the same day.