New Orleans - Spooked by predictions that Hurricane Gustav could grow into a Category 5 monster, an estimated 1 million residents fled the Gulf Coast Saturday - ahead of the official order to get out of the way of a storm taking dead aim at Louisiana.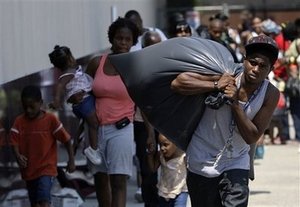 ©AP Photo/Rob Carr
Jeffrey Vannor carries his belongings while evacuating from the approaching Hurricane Gustav at the Greyhound Bus and Amtrak station in New Orleans, on Saturday, Aug. 30, 2008. A million people took to Gulf Coast highways Saturday, boarding up homes and businesses and fleeing dangerous Hurricane Gustav by bus and automobile as the season's most powerful Atlantic storm took aim at Louisiana.
Residents took to buses, trains, planes and cars - clogging roadways leading away from New Orleans, still reeling three years after Hurricane Katrina flooded 80 percent of the city and killed about 1,600 across the region.
Gustav had already killed more than 80 people in the Caribbean, and if current forecasts hold up, it would make landfall Monday afternoon somewhere between the northeast corner of Texas and western Mississippi.
Forecasters warned it was still too soon to say whether New Orleans would take another direct hit, but residents weren't taking any chances judging by the bumper-to-bumper traffic pouring from the city. Gas stations along interstate highways were running out of fuel, and phone circuits were jammed.