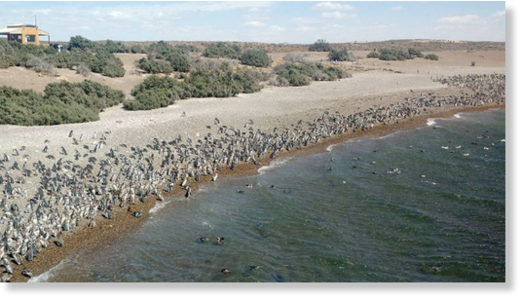 Over
one million penguins arrived on Punta Tombo, Argentina in what is thought to be a record number
, resulting in stunning displays of wildlife along the shoreline. Often seen in parts of southern Argentina and Chile, the numerous small inlets of Punta Tombo in Argentina's southeast region make a perfect breeding ground for the Magellanic penguins due to the large quantities of sardines and anchovies found close to shore.
Measuring about 45cm (17in) tall and weighing around 4kg (9lbs), the Magellanic penguin sports a large white crescent of feathers on their breast, and have distinctive pink coloring on their faces. Tens of thousands of tourists flock to the peninsula each year to catch a glimpse of the flightless birds but this year is extra special as locals say more than one million of the birds have arrived -
a record number
-
according to AP
. While not yet an endangered species, a number of Magellanic penguins die annually when they become tangled in the nets of commercial fisheries.