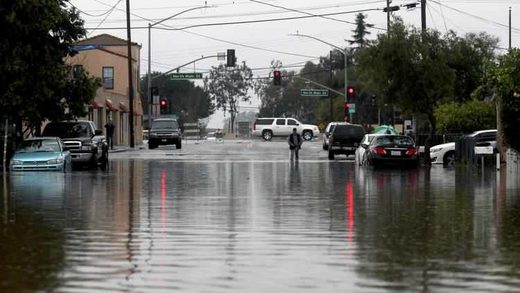 Water came gushing down the spillway at Don Pedro Dam in Stanislaus County Monday afternoon, further proof — if any were needed — that this is a rainy season for the record books in much of California.
It was only the second time the spillway had been used, and the first time in 20 years
, as officials sought to keep the Don Pedro Reservoir from overflowing.
Residents along the Tuolumne River were not forced to evacuate, but "we are strongly encouraging people to seek shelter and move to higher ground," Stanislaus County Sheriff Adam Christianson said at a news conference. "Our No. 1 priority is the safety and security of the people here in Stanislaus County."
The Don Pedro release came as much of the state's northern half was being hit with a colossal drenching
— one expected to drop as much as 9 inches of rain in areas from Santa Cruz County along the coast to the Feather River Basin, far inland. People living along waterways braced for flash floods and evacuations.
It came with memories still fresh of the crisis that developed just over a week ago at
Oroville Dam
, some 180 miles to the north. Both spillways were damaged, and fears of catastrophic flooding prompted the evacuation of more than 100,000 people.