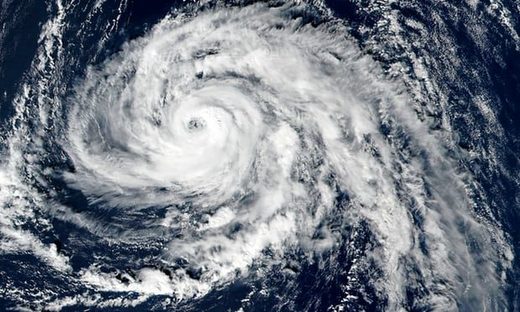 Hurricane Ophelia picked up pace as it marched toward Ireland, where it's forecast to bring strong winds and heavy rains this week. Ophelia weakened from a Category 3 to a Category 2 hurricane early Sunday, with sustained winds of 165 kilometers per hour (105 mph).
But the storm accelerated on its way to the British Isles and was moving quickly northeast at 56 kilometers per hour (35 mph).
"Preparations to protect lives and property should be rushed to completion by this afternoon," the National Hurricane Center warned in its Sunday
5 a.m ET (10 a.m. Dublin time) advisory.
The center said Ophelia gale force winds were expected in southern Ireland by early Monday, spreading gradually north across the country during the day. Hurricane-force winds are forecast to arrive by Monday afternoon, spreading inland into Monday night.
"Wind speeds atop and on the windward sides of hills and mountains are often up to 30% stronger than the near-surface winds indicated in this advisory, and in some elevated locations could be even greater," the center said.
Ophelia is also forecast to produce 2 to 3 inches of rain with isolated totals nearing 4 inches through Tuesday across western Ireland and Scotland."
A dangerous storm surge is expected to produce significant coastal flooding near and to the east of where the center makes landfall. Near the coast, the surge will be accompanied by large and destructive waves," the center warned.