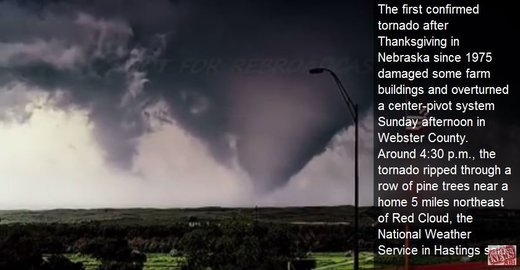 Three tornadoes touched down in south-central Nebraska Sunday afternoon but each spent mere minutes on the ground and caused minor damage, officials from the National Weather Service in Hastings reported Monday.
The twisters marked the first confirmed tornadoes after Thanksgiving in Nebraska since 1975.
No injuries were reported in any of the tornadoes.
The first spawned southwest of Upland in Franklin County just after 4 p.m., spent one minute on the ground and traveled just over a quarter mile with wind speeds reaching 70 mph, the Weather Service said in a report Monday.
Around 4:30 p.m., a tornado ripped through a row of pine trees near a home 5 miles northeast of Red Cloud, the National Weather Service in Hastings said.
The home did not sustain structural damage, but outbuildings were overturned. The tornado overturned two center-pivot irrigation systems on its route.