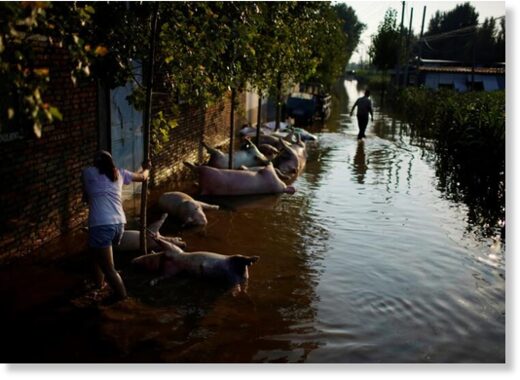 Chinese farmer Cheng wades through knee-deep water, pulling dead pigs behind him one-by-one by a rope tied around their ankles as he lines up the bloated carcasses for disposal. More than 100 of Cheng's pigs drowned in floods that paralyzed China's central Henan province last week, and the outlook for those left alive is bleak.
"I'm waiting for the water levels to go down to see what to do with the remaining pigs," said the 47-year-old farmer from Wangfan village, about 90 kilometers (55 miles) north of provincial capital Zhengzhou.
"They've been in the water for a few days now and can't eat at all. I don't think even one pig will be left."
Cheng's farm is one of thousands in Henan, famous for agriculture, and pork production in particular. The province was struck by heavy rains last week that sparked the worst flash flooding in centuries, catching many by surprise.
"In an instant, we now have no way of surviving. We have no other skills. We have no more money to raise pigs again," Cheng, who has raised pigs all his life, told Reuters at his farm on Sunday.
"This is as if the sky has fallen."