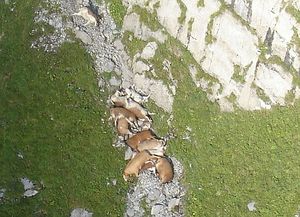 In the picturesque Swiss village of Lauterbrunnen, the locals are worried.
Dozens of alpine cows appear to be committing suicide by throwing themselves off a cliff near the small village in the Alps.
In the space of just three days, 28 cows and bulls have mysteriously died after they plunged hundreds of metres to rocks below where they were killed instantly.
In each case, local mountain rescue services using a helicopter had to be called in to remove the bodies because of the danger to the local groundwater of pollution.
A police spokesman said: 'There are no large carnivores living in the Alps anymore who would once have disposed of the bodies so they have to be moved.