Earth Changes
Sam Aranta
YouTube
Mon, 05 Jul 2021 14:44 UTC
Horrible thunderstorm, heavy rain and floods hit Zadonsk, Russia.


---
TASS
Mon, 05 Jul 2021 14:36 UTC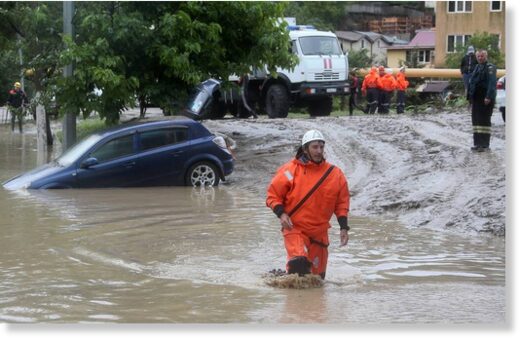 Several streets and a technical floor of a hospital have been flooded in Sochi as a result of heavy rains pouring down on the resort city since Sunday. Sochi Mayor Alexey Kopaygorodsky informed on his Telegram channel that there are emergency workers on site and that the water is subsiding.
A surge of water levels in several local rivers has been documented in Sochi. According to the Russian Emergencies Ministry's directorate for the Krasnodar Region, the downpour caused trees to collapse, the roof of an apartment building suffered damage, and a hospital was hit by flooding.
"The situation with the flooding of technical facilities in the basement and on the ground floor of City Hospital Number 3 in Khosta (a district in Sochi — TASS) is under the control of emergency workers, there is no threat to the lives and health of patients and hospital personnel, the water is subsiding," the mayor revealed.
---
KN News
YouTube
Sun, 04 Jul 2021 14:19 UTC
---
Indigo Stafford, Lucy Skoulding
Mirror
Mon, 05 Jul 2021 12:37 UTC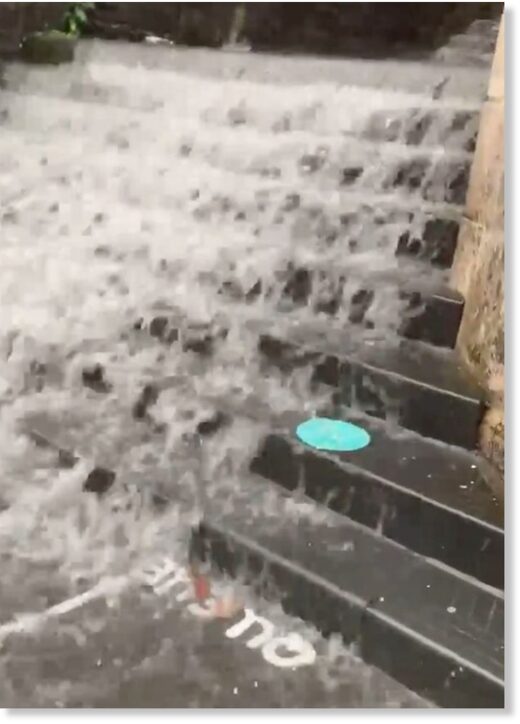 Flooding in Edinburgh caused chaos and trains in and out of the city to be halted during devastating stormy Sunday weather.
Images on social media showed multiple streets of the Scottish capital awash with rain which also crept into homes, bars, businesses - and appeared to seep into a brand new shopping centre.
Emergency services attended some incidents including under one bridge in Chesser, where the Scottish Fire and Rescue Service could be seen helping vehicles which were stuck in the flooding.
A couple were also pictured by Dr Eoin Plant-O'Toole stuck at a bus stop on Roseburn Terrace where what he described as a "river" had formed.
---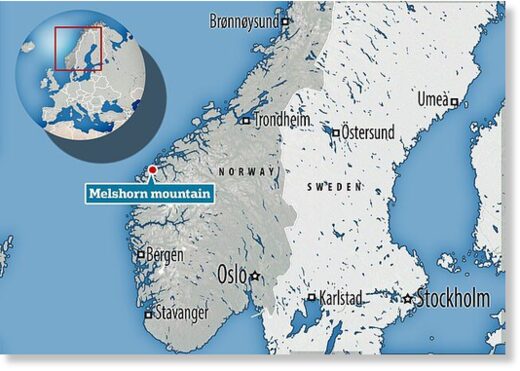 A lightning bolt has killed two sisters and injured a third sibling who were hiking on a mountain in Norway.
Benedicte Myrset, 18, and 12-year-old Victoria Myrset from Oslo, were struck by lightning in the mountainous area of Hareid on Sunday.
They were on the Melshorn mountain, a popular destination, when the accident happened.
Officials in Hareid said a third person, also a sister in the same family but who was not named, was injured and taken to a nearby hospital.
---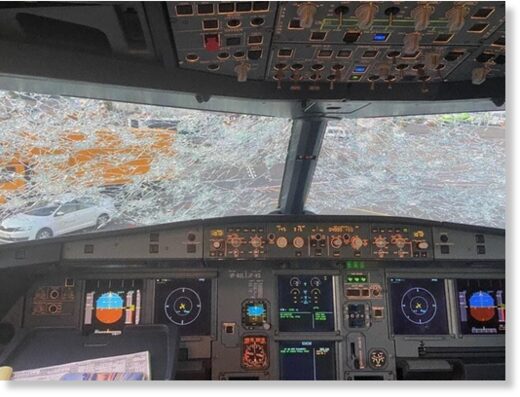 S7 Airlines Airbus A320-200 experienced a hail storm while on a flight from Chelyabinsk to Moscow Domodedovo.
Both outer windshield glasses were cracked.
On July 3, Airbus A320-200 VP-BOL successfully landed at Domodedovo Airport about 2:20 hours after departure.
Mash, an aircraft passenger, stated, " We were heading to Moscow from Chelyabinsk on July 03 evening. The aircraft gained altitude when it suddenly found itself in a zone of turbulence and experienced a hail storm. But despite the broken windows, the pilots successfully landed the plane in Moscow and almost on time."
As a result, the aircraft from Chelyabinsk arrived 19 minutes delayed at Domodedovo - at 22:54.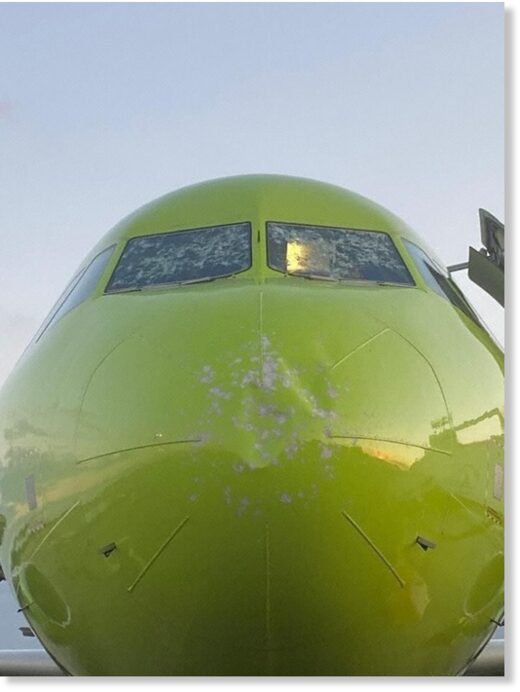 ---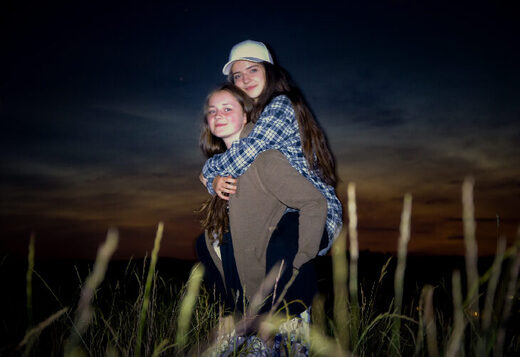 It has happened so often this summer, it hardly feels like news anymore. But it is. On July 4th, noctilucent clouds (NLCs) swept across Europe.
There was "
a large display
" in Belgium, and a "
stunning, amazing
" show in Germany. In Slovakia, the clouds lingered so long that photographer Matej Sekeráš had time to pose his nieces in front of them.
"It was the first time we witnessed these incredible clouds," says Sekeráš. "The electric-blue ripples were visible for nearly an hour."
At the apex of the display, NLCs descended all the way to northern Italy.
"I saw them from Sumirago at latitude +45N," reports Paolo Bardelli. "Another emotional night!"
NLCs are Earth's highest clouds. They form when summertime wisps of water vapor rise up to the edge of space (~83 km high) and crystalize around disintegrated meteoroids. When you see one, you're literally seeing a cloud of frosted meteor smoke.
The best time to look
is during the hours before dawn or just after sunset.
---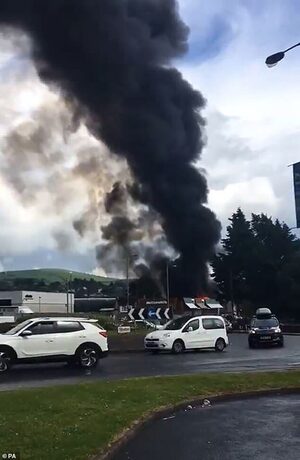 A major fire broke out at a coffin-making factory in Northern Ireland today after the building was reportedly struck by lightning.
The Northern Ireland Fire and Rescue Service said efforts to quell the blaze at O'Doherty and Sons Coffin and Casket manufacturers in Railway Street, Strabane, are likely to continue into Monday.
Around 80 firefighters have been dispatched to tackle the fire
, with the public urged to avoid the area.
Comment:
With what seems to be an increase in deadly strikes and close calls, it would appear that the nature of lightning is changing:
See also:
And check out SOTT radio's:
---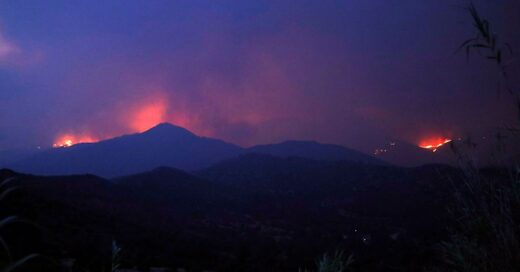 Four people were found dead on Sunday as a huge fire
raged for a second day
in Cyprus, razing tracts of forest and gutting dozens of homes in a blaze one official called the worst on record.
The blaze,
fanned by strong winds, affected at least 10 communities over an area exceeding 50 square kilometres (19 square miles) in the foothills of the Troodos mountain range, an area of pine forest and densely vegetated shrubland
.
"Its one of the most destructive (fires) we have experienced
, unfortunately, with victims," Cypriot President Nicos Anastasiades told reporters from the area. The state would stand by and support all those affected, he said.
---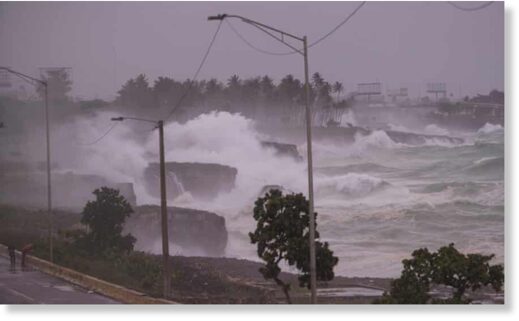 Cuba prepared to evacuate people along the island's southern region on Sunday amid fears that Tropical Storm Elsa could unleash heavy flooding after battering several Caribbean islands, killing at least three people.
The government on Sunday opened shelters and moved to protect sugarcane and cocoa crops ahead of the storm, whose next target was Florida, where governor Ron DeSantis declared a state of emergency in 15 counties, including in Miami-Dade County where the high-rise condominium building collapsed last week.
Elsa was located about 175 miles east-southeast of Montego Bay, Jamaica, and was speeding west-northwest at 17 mph. It had maximum sustained winds of 65 mph, according to the National Hurricane Center in Miami.
The storm killed one person in St Lucia, according to the Caribbean Disaster Emergency Management Agency. Meanwhile, a 15-year-old boy and a 75-year-old woman died Saturday in separate events in the Dominican Republic after walls collapsed on them, according to a statement from the Emergency Operations Center.
---