Earth Changes
The number of migratory songbirds returning to North America has gone into sharp decline due to the unregulated use of highly toxic pesticides and other chemicals across Latin America.
---
Summit County, Colorado - The Colorado River Basin is heating up faster than nearly any other part of North America, with potentially serious consequences for the region's economy and environment.
---
---
---
Arenal National Park, Costa Rica - A crown of streaming clouds flowed off the cone of Costa Rica's Arenal volcano. A sound like thunder shook the air.
Standing in a lava field about three kilometres from the mountainside, I watched boulders the size of Chevy Suburbans fly out of the clouds and tumble down the grey and black slope.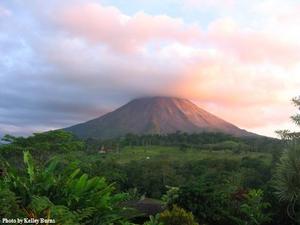 ©Rural Costa Rica
The Arenal Volcano during a sunset.
---
Summit County, Colorado - Growing evidence shows drought conditions are killing Colorado's aspens at an unprecedented rate.
More than 56,000 acres of aspens have recently died in the state, according to a paper published by a group of Forest Service scientists last year.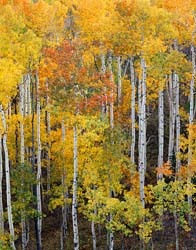 ©Jim Stimson
Aerial view of a forest of Aspen trees, Aspen, Colorado, USA
---
IANS
Sun, 06 Apr 2008 11:17 UTC
At least two paramilitary personnel were killed and eight injured in separate lightning strikes in the north-eastern state of Tripura, officials here said Saturday. "A Border Security Force (BSF) jawan Subhash Singh, 48, of Allahabad died on the spot and three troopers were seriously injured when lightning struck at Bhabanipur, 60 km west of here," an official said.

He said another lightning strike killed a Tripura State Rifles (TSR) personnel Dhirendra Malakar, 45, and injured another jawan at the Dhalai district headquarter town of Ambassa, 90 km north of here.
---
Beekeeping hobbyist Tom Hill's eight hives have faired poorly this year. Only three survive and two of those are not strong.
In the hives that are weakened, no dead bees are actually found in the hive and not all the bees have died. A tiny cluster of living bees survives, but they are lethargic.
For example, Hill said the bees would not sting you if you stuck your hand in the hive.
They could recover if there is no big freeze this year. If a freeze does occur though, there are not enough bees for the hive to stay warm and the rest will die.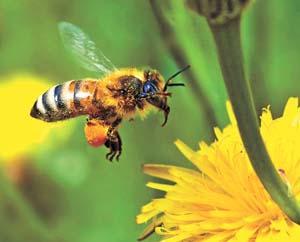 ©Unknown
Property across the road from Franklin High School will be the site of Cross the Road Ministries Youth Center
---
Torrential rains are falling across Western and Middle Tennessee today, periodic downpours alternating with brief glimpses of blue sky, with in essence only a moment's breathing room. The effects of the rain are already being felt, not the least of which is a car accident that may or may not be attributable to insufficient or ineffecient storm drain problems at the intersection of Riverside Drive and Thomas Street.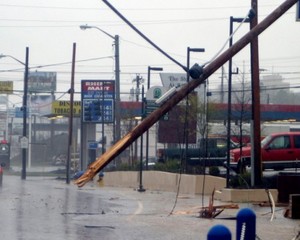 ©Unknown
---
A western lowland gorilla was born Saturday about 3:30 a.m. (PST) at Woodland Park Zoo. The newborn represents the twelfth successful gorilla birth for the zoo and the third offspring between 37-year-old Amanda and the father, 28-year-old Vip. The infant is a female.
And her name is...Uzumma!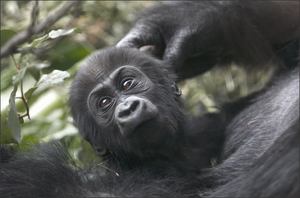 ©Seattle Post-Intelligencer
Uzumma, a 5-month-old female western lowland gorilla, relaxes on her mother's chest after the announcement of her new name at the Woodland Park Zoo Friday, April 4, 2008
---