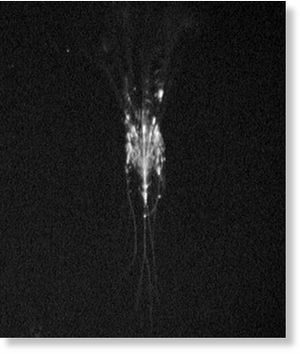 High above Earth, in the realm of meteors and noctilucent clouds, a strange and beautiful form of lightning dances at the edge of space. Researchers call the bolts "sprites"; they are red, fleeting, and tend to come in bunches. Atmospheric scientist Oscar van der Velde of Sant Vicenç de Castellet, Spain, photographed this specimen on June 5th.
"With my new zoom lens I can now magnify the sky above thunderstorms to get very detailed images of sprites," says van der Velde. "This amazing 'carrot sprite' occurred near the coast of southern France about 250 km away from me."
"Sprites are a true space weather phenomenon," he adds. "They develop in mid-air around 80 km altitude, growing in both directions, first down, then up. This happens when a fierce lightning bolt draws lots of charge from a cloud near Earth's surface. Electric fields [shoot] to the top of Earth's atmosphere--and the result is a sprite. The entire process takes about 20 milliseconds."