The remnants of the once mighty Hurricane Dean triggered deadly mudslides in Mexico Thursday as driving rain drenched a large part of the country, bringing the storm's death toll to at least 25.
And with river levels swelling rapidly and pounding rain hitting unstable mountain flanks, officials warned the crisis was far from over, even though Dean was downgraded to a tropical depression.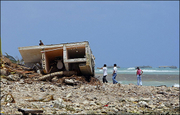 ©Omar Torres/AFP
People look at the remains of a destroyed house on Mahahual's beach, 80 km from Chetumal, after the passage of Hurricane Dean, 22 August 2007.