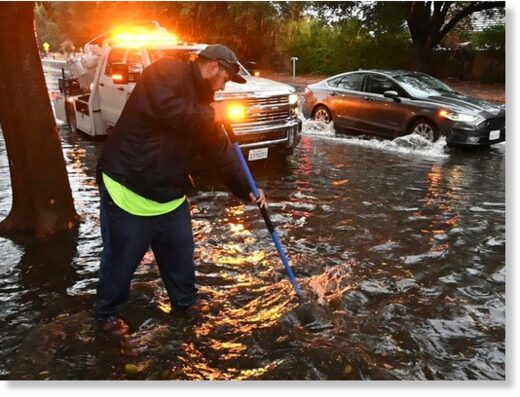 The storm that hit Southern California on Monday broke rainfall records as it swept down from the north and delivered much-needed moisture to areas parched by drought.
A low-pressure system hovering some 200 miles off the coast of Seattle sent a cold front hurtling all the way to the Southland, battering the area with significant rain for the first time in seven months.
The storm topped out at a 943-millibar pressure level, which is exceedingly low and signifies "a very intense storm," said David Sweet, a meteorologist with the National Weather Service in Oxnard.

"Seeing that in October is very impressive," he said.
Some Los Angeles County metro and coastal areas recorded more than an inch of rain. Just under half an inch fell over downtown L.A., according to the National Weather Service. Beverly Hills recorded 1.12 inches and Bel Air got 1 inch.
Several foothill communities saw even more moisture, with East Pasadena and nearby La Cañada-Flintridge both receiving 1.32 inches.