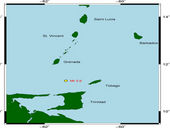 Residents of the Northwestern areas of Trinidad were shaken out of their daily routines yesterday (Jan. 28) when an earthquake struck in the afternoon at about 1:30.
According to the University of the West Indies (UWI) Seismic Unit, the preliminary location of the quake was 11.30°N, 61.48°W. The earthquake's focal depth was recorded at 23km with a magnitude of 3.6.
While local media reported no structural damage, the effects of the earthquake were felt in Diego Martin, Champs Fleurs, St. Augustine, Tunapuna, Port-of-Spain, Woodbrook and Morvant.