Padre Island National Seashore, TX - The world's longest undeveloped barrier island now looks as if people have been living - and dumping - on it for decades.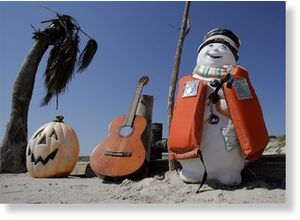 Tons of debris swept up by Hurricane Ike last month were carried by Gulf of Mexico currents hundreds of miles from the upper Texas coast to this ordinarily pristine landscape just north of the Mexican border.
Sections of roofs, refrigerators, loveseats, beds, TVs, hot tubs and holiday decorations litter the more than 60 miles of gently arcing sand in the national park.
Some of the junk is good for a laugh, like the lifejacket-clad snowman someone placed next to a plastic pumpkin, a small but real palm tree and an acoustic guitar. But it's no joke to wildlife workers who are worried the trash will harm birds and other animals, including an endangered turtle that nests here in the spring.