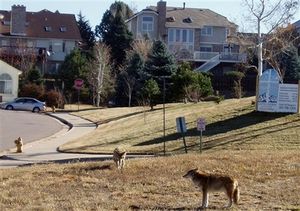 Denver - A coyote ambling into a Chicago sandwich shop or taking up residence in New York's Central Park understandably creates a stir. But even here on the high plains of Colorado, where the animals are part of the landscape and figure prominently in Western lore, people are being taken aback by rising coyote encounters.
Thanks to suburban sprawl and a growth in numbers of both people and animals, a rash of coyote encounters has alarmed residents.
Wildlife officials are working to educate the public: Coyotes have always been here, they've adapted to urban landscapes and they prefer to avoid humans.
"Ninety-five percent of this problem is a human problem, and we really need to focus on that 95 percent to solve it," said Nicole Rosmarino, wildlife program director of the environmental group WildEarth Guardians.