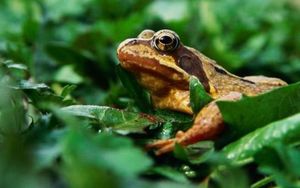 Frogs, newts and other "pond life" found at the bottom of the garden are to be counted in the first UK survey of reptiles and amphibians.
Hundreds of frogs, toads, snakes and lizards can live at the bottom of town and country gardens.
However global warming and development means many species are increasingly at risk. Of the 13 species of amphibians and reptiles native to the UK, 10 are considered endangered including the great crested newt, natterjack toad, adder and pool frog. Other species like grass snakes or common frogs are also suffering from habitat loss.
The national "stock take" of newts, toads, snakes and other traditional "garden pests" has been organised by a network of conservation groups including the British Trust for Ornithology and Froglife.