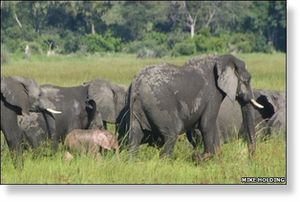 A pink baby elephant has been caught on camera in Botswana.
A wildlife cameraman took pictures of the calf when he spotted it among a herd of about 80 elephants in the Okavango Delta.
Experts believe it is probably an albino, which is an extremely rare phenomenon in African elephants.
They are unsure of its chances of long-term survival - the blazing African sunlight may cause blindness and skin problems for the calf.
Mike Holding, who spotted the baby while filming for a BBC wildlife programme, said: "We only saw it for a couple of minutes as the herd crossed the river.