Kyle Owens has a fish tale straight from the waters of the Ohio River.
The 10-year-old Chilo boy went fishing for catfish this past weekend but caught something he was not expecting.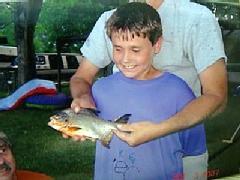 ©WLWT.com.
"I thought it was like a 10-pound catfish, reeling it in," said Owens. "I thought, 'It's a big blue gill,' and I was about to stick my thumb into its mouth and then I saw its teeth."