Ralph Adams, a structural and civil engineer, said that the building collapse at Arch Cot, Brittons X Road, St Michael, was bound to happen at some point.
Adams, who was on the scene offering advice from Sunday, said the neighbourhood knew about the existence of a cave and still allowed people to build on it.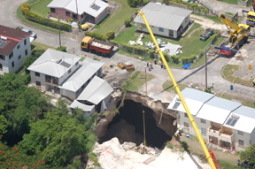 ©NationNews.com
An aerial shot showing the extent of Sunday's cave-in and the surrounding district including nearby construction.