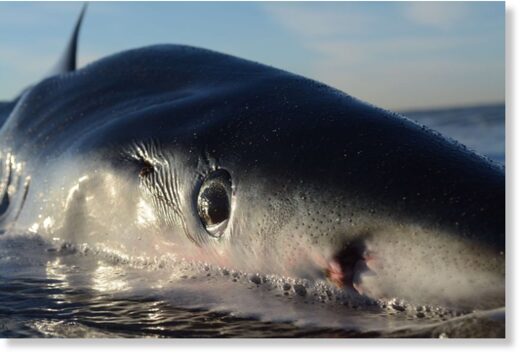 A corpse that washed up near Benidorm, eastern Spain last week is yet another example of an increasingly common phenomenon that is baffling scientists
Last week, the sighting of a blue shark forced the evacuation of a beach in Benidorm, eastern Spain. Around two meters long and weighing in at about 60 kilos, the shark had become disoriented and ended up in an area full of bathers. A rescue team from the Oceanogràfic of Valencia oceanarium managed to capture it and, after running tests, found it to be in good health and returned it to the sea.
On Saturday, August 21, the same specimen was located in the municipality of El Campello, 30 kilometers south, where the following day, it washed up dead. According to the necropsy carried out by Jaime Penadés, a researcher at the Marine Zoology Unit at Valencia University,
the cause of death appears to have been a small wound near its eyelid, which was already visible in videos recorded several days before by the local police's Maritime Service; a wound that is compatible with a swordfish attack. Until recently, this type of aggression was a complete mystery to scientists, but a spate of cases has prompted research into the relationship between the two marine animals.