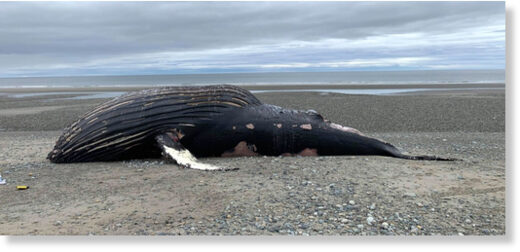 A B.C. research and conservation group says a young humpback whale was found dead on a Haida Gwaii beach on Saturday.
The Marine Education and Research Society (MERS) said the female whale, known as Kayak or BCX0977, was believed to be about 18 years old when she died.
She was found on a beach near the mouth of the Tlell River on the east side of the largest island in the archipelago off B.C.'s north coast, the group said.
"We want to share her story to aid thinking of whales as individuals," the organization said in a
Facebook post.
"Sightings of Kayak go back to 2004. She was older than a year then as she was not with a mother and calves stay with their mothers for a year. When we first saw her in 2007, our observation was that she was small / young."