A mandatory evacuation was ordered Saturday for residents of more than 1,000 homes south of Ketchum, where a massive wildfire raged and high winds grounded firefighting air tankers.
After three days of relative calm, the 39-square-mile fire was 38 percent contained, but embers blew ahead of the blaze and increased the threat of spot fires, fire spokesman Bob Beanblossom said.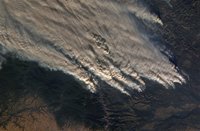 ©AP/NASA
This image provided by NASA Thursday Aug. 16, 2007 was taken by one of the crew aboard the International Space Station of wide-spread forest fires in the Payette National Forest, Central Idaho within the Salmon River Mountains Monday.