North Korea is seeking international help after it reported massive flooding had left hundreds of people dead or missing and washed away many buildings, a U.N. aid agency spokesman said on Tuesday.
North Korea, which has struggled with chronic food shortages for years, also said in a report early on Tuesday that floodwaters caused "tens of thousands of hectares of farmland (to be) inundated, buried under silt and washed away."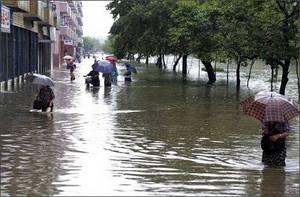 ©AP
Pyongyang has been badly hit by flooding.
Paul Risley, Asia spokesman with the U.N. World Food Programme, said: "If the figures are borne out by our own assessment, then we are very concerned that this is a significant emergency crisis."