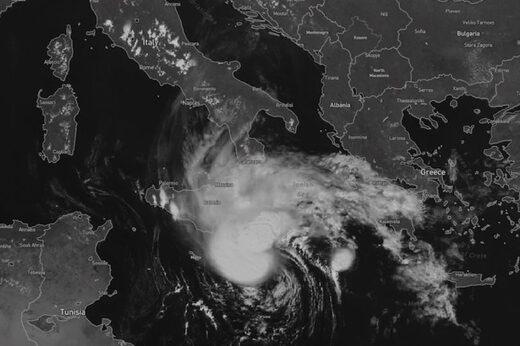 The rare cyclone Ianos 'hit' the islands of Zakynthos, Kefalonia, Ithaca on Thursday evening.
Greece's national meteorological service
issued a top level Red Alert for winds, rain and storm conditions.
"We are preparing to face a rare extreme weather phenomenon," Deputy Civil Protection Minister Nikos Hardalias said, adding that citizens living in regions likely to be affected by the weather front should limit their movements to only those that are strictly necessary.
"Mediterranean cyclones are relatively rare phenomena, which we have encountered in Greece since 1995, but they have intensified and become more frequent in the Mediterranean region due to climate change,"
he added.
Comment:
These
medicanes
are
becoming
part of the new
normal
, but not as a result of 'climate change' (formerly referred to as 'global warming' by the MSM). See main comment below.
The minister also called on the citizens of Achaia, Arcadia, the Argolid, Viotia (Boeotia), Etoloakarnania, Fokida, Attica and Evia, who live in areas that have flooded in the past or are near rivers, streams or shorelines, to avoid going in basements and ground floors for prolonged periods of time.