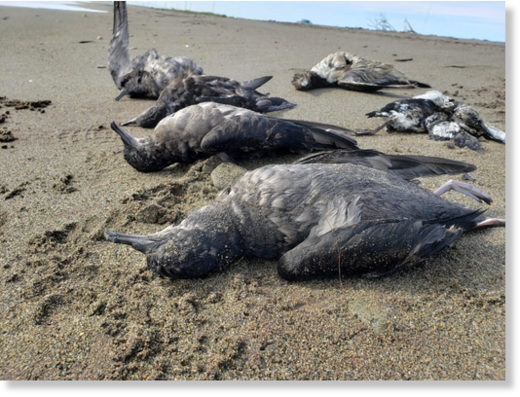 Biologists in Alaska have again seen
massive seabird die-offs this summer,
or "wrecks," as some experts call them, extending from May into last month.
According to the National Park Service, reports received by mid-August documented thousands of dead short-tailed shearwaters from Bristol Bay, and lower numbers of other types of birds, found deceased in the Northern Bering and Chukchi Seas. This marks the fifth year in a row Alaska has seen mass seabird mortality events.
"Of all the carcasses we've collected and sent in, and that people have examined or looked at in any way, it's starvation. The birds are dying of starvation," said Kathy Kuletz seabird section lead for Alaska with the U.S. Fish & Wildlife Service.
Kuletz said scientists still can't determine why hundreds and hundreds of birds,

of a variety of species,

are washing up on Alaska's shores, starving to death.
According to Kuletz, it's possible that toxins from harmful algal blooms weakened the birds, preventing them from foraging, cannot be ruled out.