Comment:
A '
one-in-500-year event
', they're calling it.
As Corona madness grinds on, we expect ever more extreme weather phenomena to hit everywhere...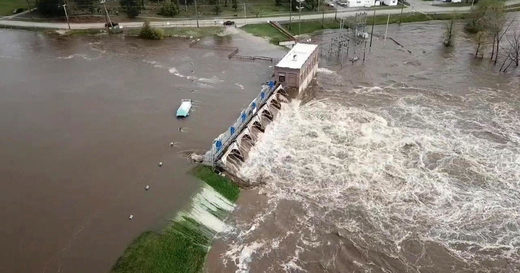 Michigan Governor Gretchen Whitmer has declared a state of emergency for one county after two dams breached on the same day, warning that downtown Midland could be
under nine feet of water
in just 12 hours as thousands evacuate.
Both the Edenville and Sanford dams near Midland breached on Tuesday after several days of heavy rainfall, sending a torrent of water downstream along the Tittabawassee River and prompting the governor to issue an evacuation order for the area's 10,000 or so residents.
"If you have not evacuated the area, do so now and get somewhere safe," Whitmer said in a
statement
, noting the state's National Guard had been activated and warning the city of Midland could be devastated by flooding as soon as Wednesday.
"This is unlike anything we've seen in Midland County. If you have a family member or loved one who lives in another part of the state, go there now."