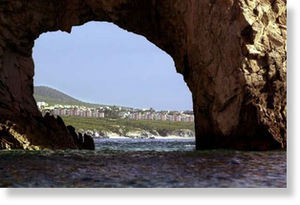 If you've scheduled a fishing trip to Cabo San Lucas early this week, bring your umbrella and plan on spending time indoors.
Hurricane Jimena, off mainland Mexico, has intensified overnight and is classified as a Category 4 storm, with sustained winds of about 135 mph. At 8 a.m. Sunday its center was located 515 miles south-southeast of Cabo and was tracking to the northwest (see graphic below) at about 9 mph.
The National Hurricane Center
predicts it will skirt the Baja California peninsula before making landfall Tuesday night in the Magdalena Bay area. It will deliver plenty of much-needed rain, but might also cause extensive flooding.