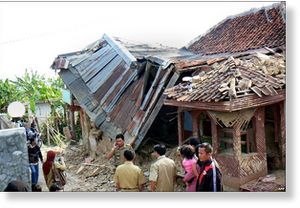 Jakarta - A disaster management official says the death toll from a powerful Indonesian earthquake has more than doubled to 32.
Social Affairs Ministry official Mardi says more than 700 houses and buildings have been badly damaged in Wednesday's 7.0 magnitude quake.
Scores of people have been injured.
Many of the victims died when their homes were buried in a landslide triggered by the temblor.
The official Antara news agency reports about 30 people are trapped under rocks and dirt from the landslide in one village.
The U.S. Geological Survey says the quake struck at 2:55 p.m. (0755 GMT) off the southern coast of the main island of Java. A tsunami alert was issued but revoked less than an hour later.