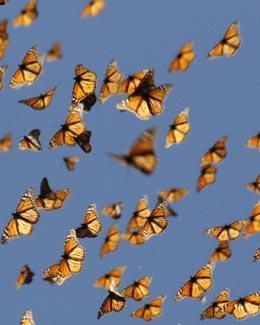 Monarchs may navigate using clocks in their antennae.
Every autumn, hundreds of millions of monarch butterflies pour out of southern Canada, funnel through the United States to the central Mexican highlands and land in groves of fir trees no larger than the base of the Great Pyramid of Giza.
The Sun is a crucial tool for navigating this precise 4,000-kilometre flight path - but it's a moving target. To maintain their southward bearings while the Sun crosses the sky, the insects must keep track of the time of day to continuously correct their internal compass. Neurobiologists have assumed that this clock is in the monarchs' brain together with the rest of the navigation circuitry, but new research reported in
Science
reveals that it may actually reside in the antennae.
"This is a novel function for the antennae, and a huge surprise overall," says lead author Steven Reppert of the University of Massachusetts Medical School in Worcester. "It brings us closer to understanding how time and space are integrated on [the monarchs'] remarkable migration."