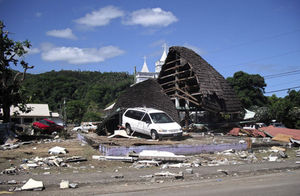 Scores of people are feared dead and many more injured after a powerful earthquake triggered a tsunami that swept the Pacific islands.
Cars and people were swept out to sea by the fast-churning water as survivors on the worst-hit islands of Samoa and American Samoa fled to high ground, where they remained huddled for hours.
The floodwater engulfed cars and homes, flattened villages and washed ashore a large boat that came to rest on the edge of a highway.
The 8.3-magnitude quake struck about 125 miles from Samoa at 6.48pm BST, sending a large wave into Apia, the capital of Samoa, and a 1.5-metre wave into Pago Pago, the capital of American Samoa.