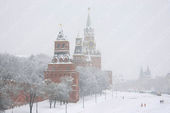 Heavy snowfalls in Moscow and the surrounding Moscow Region caused more than 6,000 traffic accidents over the weekend, which resulted in 24 deaths, local traffic police said on Monday.
According to Moscow's traffic police department, a total of 4,200 car accidents were registered on Saturday and Sunday in the capital, in which four people were killed and 78 injured.
In the Moscow Region over the same period, 20 people were killed and 86 injured in about 2,000 traffic accidents.
"All major deadly accidents on Saturday were caused by severe traffic violations," said Svetlana Landa, a spokeswoman for the Moscow Region's traffic police department.