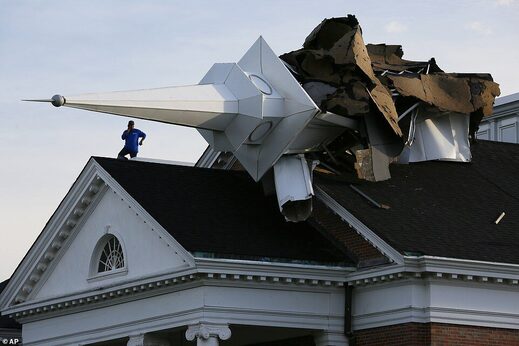 A rare storm packing 100 mph winds has left more than 1.1 million Americans without power across the Midwest as it caused widespread destruction with blown over trees, flipped vehicles, property damage and several severe weather warnings as it turned toward embattled Chicago.
The derecho, a widespread weather system with a long line of storms packing high winds, descended upon the Central U.S. on Monday with wind speeds comparable to a major hurricane as it spent several hours tearing through parts of Iowa, Nebraska and Wisconsin.
The storm likely caused more widespread damage than a normal tornado, said Patrick Marsh, science support chief at the National Weather Service´s Storm Prediction Center in Norman, Oklahoma.
It´s not quite a hurricane. It has no eye and its winds come across in a line. But the damage it is likely to spread over such a large area is more like an inland hurricane than a quick more powerful tornado, Marsh said.
He compared it to a devastating Super Derecho of 2009, which was one of the strongest on record and traveled more than 1,000 miles in 24 hours, causing $500 million in damage, widespread power outages and several deaths.