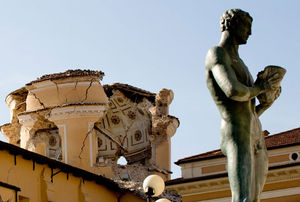 A powerful aftershock tonight brought two apartment blocks crashing down in the stricken city of L'Aquila, causing panic among rescue workers and survivors of Monday's deadly earthquake.
Chunks of masonry fell from other damaged buildings, and
the tremor - measured by the US Geological Survey at magnitude 5.6 - was felt as far away as Rome
. Within minutes the city resounded again to the scream of sirens as police and rescue workers rushed to the scene.
Meanwhile rescue workers were preparing to carry out what one called a "surgical operation" on a collapsed building in the centre of L'Aquila in the hope of saving the lives of four missing students.