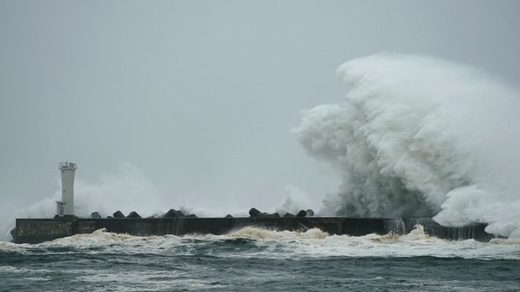 Japan is bracing itself for what could be its heaviest rain and winds for 60 years as Typhoon Hagibis edges closer.
Winds reaching 180km/h (111mph) could cause floods and landslides, the Japan Meteorological Agency has warned.
Tens of thousands of homes are already without power and one person died when a car overturned in high winds.
Shops, factories and train networks have been shut down while the Rugby World Cup and the Formula One Grand Prix are facing disruption.
Hagibis is due to make landfall near Tokyo later on Saturday.
Authorities have issued evacuation advisories in areas at particular risk, while supermarkets are running low as people stock up before the typhoon hits.
Even while the storm was still out to sea, tornado-like winds battered Chiba, east of Tokyo, damaging homes and toppling a car, killing its occupant.