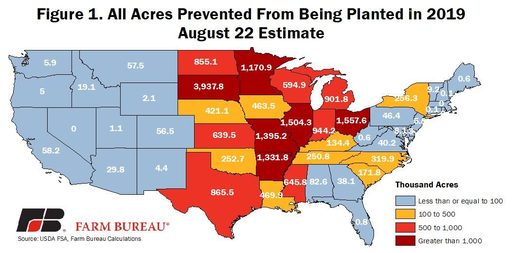 Historic flooding in the early spring and record rainfall across portions of the Corn Belt led many in the industry to expect
prevent plantings, i.e.,
the failure to plant an insured crop
, to reach record highs in 2019, and the latest crop report bears that out. Prevented planting payments provide crop insurance benefits to policyholders to compensate for pre-planting costs incurred in preparation for planting the crop. For some farmers, these indemnity payments may exceed the economic returns associated with a late-planted and poor-yielding crop.
The previous prevent plantings record, set in 2011, was just shy of 10 million acres for the eight principle crops (
Prevent Planting Implications for 2017
). Recently released Farm Service Agency crop acreage
data
revealed that as of late August
prevent plantings were record-high at nearly 20 million acres,

more than double the previous record.
Prevented planting across all major crops was the highest in South Dakota at 3.9 million acres. Following South Dakota was Ohio at 1.6 million acres and Illinois at 1.5 million acres. Prevent plant acreage exceed 1 million acres in six states, across which prevent plantings totaled nearly 11 million acres, more than 50% of all filings in 2019. Figure 1 highlights total prevent plantings by state as of August 22. These totals are preliminary as FSA will continue to update crop acreage data through January 2020. Totals will likely increase but are not expected to increase substantially.