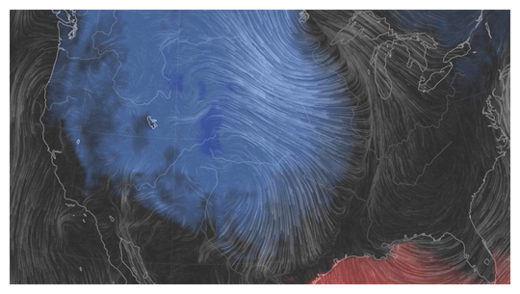 The American midwest is skipping autumn and heading right to winter to end the week.
A potentially record-setting blizzard is bearing down on the region and could dump snow from Colorado to Minnesota. The Dakotas sit near the epicentre of the storm and could see up to three feet of October snow (yes, you read that right).
Add in gusty winds and you have a recipe for life-threatening conditions. For a region that's already dealt with
one freak early season snowstorm
, the latest blast of winter is hardly welcome.
Snow has already fallen across parts of the Rockies and Front Range as of Thursday late morning. Multiple
accidents
and
pileups
have been reported in the Denver metro area. Highways have been shut down as police struggle to respond amid worsening conditions.
After topping out at 27 degrees Celsius on Thursday, Denver will struggle to reach freezing on Friday. As of mid-afternoon local time, temperatures hovered at just -5 degrees Celsius with a wind chill of -10 degrees Celsius.
The chaos in Colorado is just a preview of what's to come, though. As the storm pushes eastward, frigid air will continue to drop out of Canada and sweep across the Midwest. Along with rapidly dropping temperatures, the storm will usher in winds upwards of 100km/h and heavy snow.