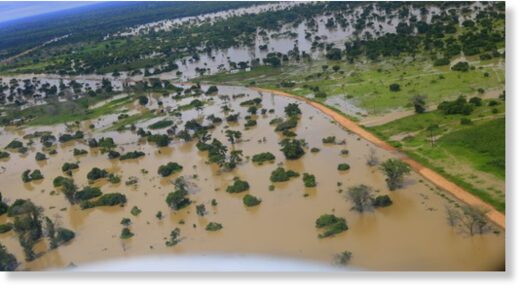 Wide areas of Southern and Central Provinces in Zambia are underwater after long-term rainfall caused rivers to overflow. Disaster authorities in Zambia have described it as a "catastrophic situation".
On 27 January 2023, the country's Disaster Management and Mitigation Unit (DMMU) conducted an aerial survey of affected communities in Bwengwa, Namwala, Monze in Southern Province, and Mumbwa district in Central Province. DDMU reported widespread damage to homes, farmland and livestock.
Many communities are isolated leaving them without access to healthcare and education. Furthermore, sanitation facilities have been completely submerged, exposing the population to a high risk of waterborne diseases, DDMU said.
DDMU added that affected communities require an emergency intervention in particular delivery of both food and non-food relief items. The Government has assured that a multi-sectorial response will ensure recovery, rehabilitation and restoration.