Earth Changes
FA Weather
YouTube
Sat, 09 Oct 2021 11:51 UTC
---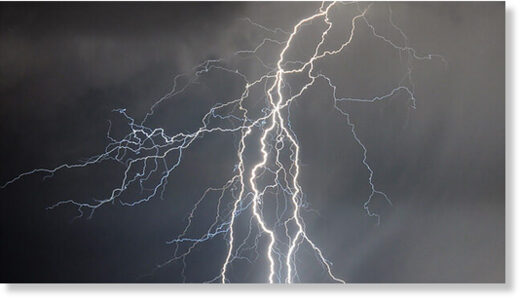 Three fishermen were killed and another was injured by lightning struck in the Padma River at Vedorgonj Upazila in Shariatpur early Sunday (October 10).
The deceased are identified as Mohiuddin, 26, hailed from Dewan Kandi village in North Tarabania union, Al Amin, 36, and Nayan Ahmed, 27, of Char Bhairab in Haimchar union of Chandpur district.
Local sources said, violating the government ban, seven fishermen went fishing in the Majher Char in the morning.
At one stage, the lightning strike them while they were fishing in the River around 5:00am, leaving the trio dead on the spot and another injured.
Tarabunia union parishad chairman Md Yunus Sarkar said, the victims were buried and injured one was sent to upazila health complex.
Vedorgonj Upazila Nirbahi Officer (UNO) Tanvir Al Nasif confirmed the matter.
---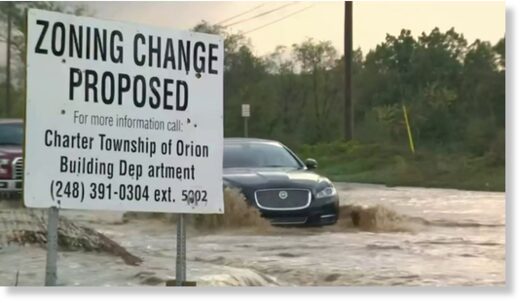 Neighbors say it's as if a rain cloud parked itself over Orion Township and just wouldn't go away.
"Our engineers said anywhere between 6 to 8 inches of rain fell for about an hour
so there's no storm drainage system that can handle that volume of water," said Orion Township Supervisor Chris Barnett.
It didn't affect the entire township, rather the south end starting at Stadium Drive and extending toward the Auburn Hills border.
Neighbors in the Stonegate subdivision couldn't believe their eyes as a rushing waterfall took over Dutton Road and crashed into several homes caving in basement windows.
---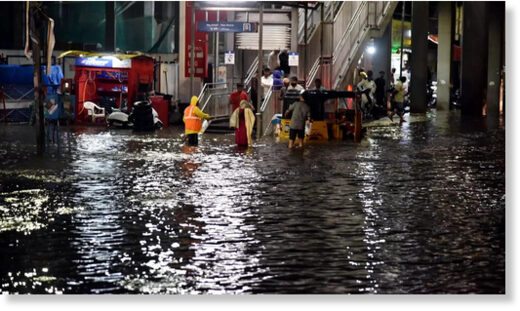 The city witnessed rain fury on Friday after a few areas recorded more than 140mm rainfall in a matter of few hours, leaving many areas water-logged and inundated. A biker was swept away in the rain water when he accidentally fell in the nala at a culvert Chintalkunta area of Vanasthalipuram on Friday night.
Luckily he was pulled out by the locals at some distance but as he left the place, abandoning his bike, police continued the search till 11.30 pm when they got a confirmation that he escaped with minor injuries.
According to the Telangana State Devlopment Planning Society figures up to 11 pm, Ameerpet recorded highest rainfall of 141.3 mm
followed by 130.8 mm at Lingojiguda, 120.8 mm at Kurmaguda, 112.8mm at LB Nagar, 110.3mm at South Hasthinapuram, 108.5mm at Asmangad, 105.8mm at Viratnagar among others. Many other areas such as Uppal, Begum Bazar, Kanchanbagh, Nampally, Hayathnagar, Rein Bazar, Attapur, Rajendra Nagar were lashed with 40-100mm of rains.
---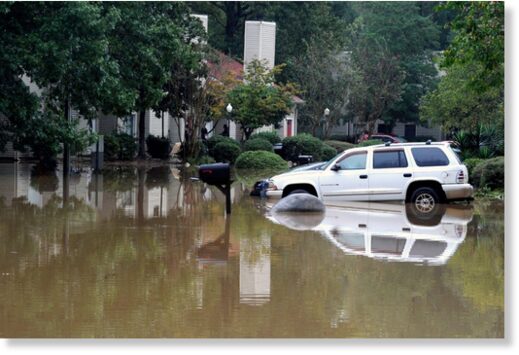 Four people were killed when floodwaters lashed Alabama on Wednesday, local officials said. Many others had to be rescued from the roads after becoming stranded in their vehicles.
On Thursday, the Marshall County Coroner's Office
confirmed
that a 4-year-old girl had died as a result of the flooding, and said and her body was recovered just before midnight on Wednesday. The body of an 18-year-old woman was found early Thursday morning.
"We are working with law enforcement and fire personnel on both incidents to ensure the families have been notified," the coroner said. "No additional information can be released at this time."
---
Lauren Bird
CBC News
Sat, 09 Oct 2021 11:52 UTC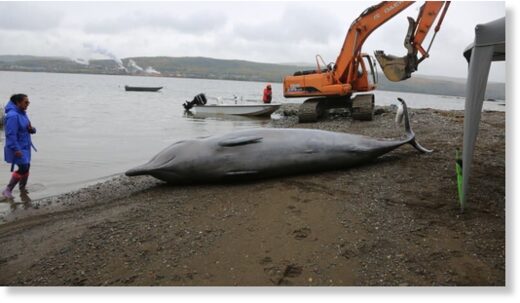 Two northern bottlenose whales found stranded in Chaleur Bay recently have scientists questioning how they got there —
hundreds of kilometres from where they should be.
A report that the whales were stranded in shallow water came to the Marine Animal Response Society on Sept. 30.
"At that time, the report was that local people — and I think it was actually local police — had pushed these two animals back in the water, and so then they swam off," said Tonya Wimmer, executive director of the Marine Animal Response Society.
After being pushed back into the deeper water, the whales were stranded again later that night. One of the whales died, Wimmer said they believe the other swam free.
---
Xinhua
Sat, 09 Oct 2021 11:40 UTC
---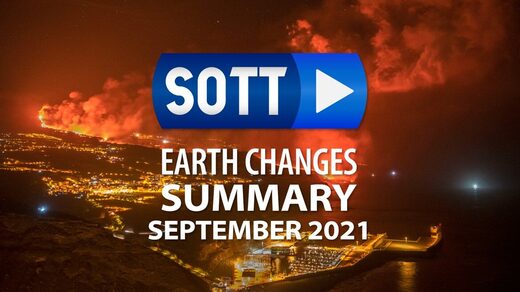 China continues getting hit by heavy rains and unprecedented floods. Millions have been affected, and the
agricultural infrastructure has been left in very bad shape.
China's Henan province has taken the strongest hit so far, lashed by historic rainfall and floods since July, causing the death of at least 71 and affecting 12 million people.
States on both the east and west coast of India got battered by record rainfall and flash floods too. In Gujarat, 1.6 million residents were affected and 7,000 were evacuated. In Odisha, heavy rainfall affected 2.3 million people in 4,964 villages, 7,500 houses were damaged, and around 130,000 hectares of agricultural land were destroyed.
Storm Ida unleashed heavy rain, flash floods, hail, and tornadoes across the NE of the US, killing dozens of people and causing widespread damage. New York City and New Jersey were hit by record rainfall, trapping residents in flooded basements and cars.
Mexico also got its share of extreme weather with unprecedented amounts of rain and floodwaters in the southern and central parts of the country.
All this while a 7.0M earthquake rattled major cities from Guerrero to Mexico City.
A rare 5.9 magnitude earthquake shook Australia's southeast, damaging buildings in Melbourne. It was Australia's largest earthquake in recent years. At the same time, a series of gripping cold fronts triggered late snowfalls in the east coast and Victorian highlands overnight, while Adelaide was hit by severe hailstorms later on... Nature seems to be responding promptly to the rabid, totalitarian measures enforced in Australia.
The Cumbre Vieja volcano in La Palma, one of Spain's Canary Islands, erupted on September 19. For nearly two weeks, sheets of lava burned through farmland, roads, and homes on the southwestern part of the island. After the several strong explosions, four new fissures of lava have opened. Around 6,000 people have been evacuated, and about 400 properties had been destroyed.
As the Earth's atmosphere gets charged, we also notice an increased number of people, cattle, and buildings being hit by lightning, as well as other electrical phenomena in the sky as red sprites, blue jets, and noctilucent clouds.
Something big is going on folks, there are clear signs of increased electrical phenomena and global cooling. Are we already in an ice age?
Again, pay attention to reality and prepare accordingly.
All this and more in our SOTT Earth Changes Summary for September 2021:
---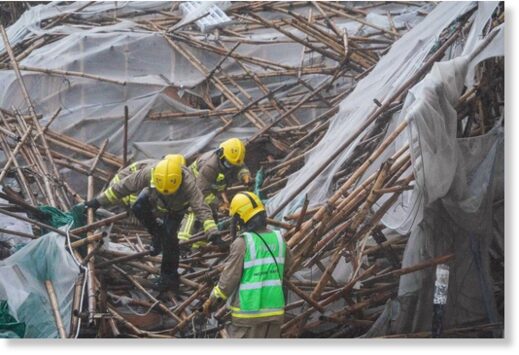 A worker died and three others were rescued by emergency services after massive scaffolding around a high-rise residential building in Hong Kong collapsed on Friday morning under the onslaught of heavy rain and strong winds brought by a typhoon.
Police said two women working on the site at the Beverly Hill estate on Broadwood Road in Happy Valley were found at the scene, one of whom was pulled unconscious from the debris while the other was unhurt.
The injured woman died in Ruttonjee Hospital in Wan Chai at about 12.45pm. Two trapped drivers were also rescued from their vehicles after the scaffolding crumpled onto the road below.
Torrential downpours prompted the Hong Kong Observatory to upgrade its rainstorm warning at 11.45am to black - the highest level and one that was last issued on June 28. The warning was downgraded to red an hour later, with heavy rain still lashing the city.
---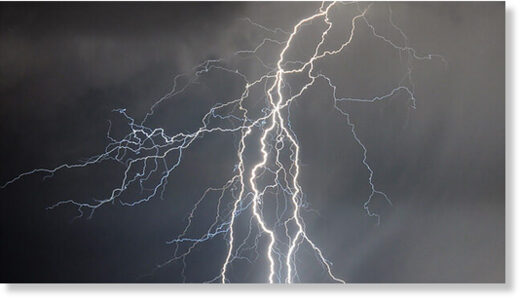 Five people from the same family and another have been killed by suspected lightening in Mwansakombe Village in Chief Mwansakombe's Chiefdom in Chifunabuli District in Luapula Province.
The accident happened last night around 22 hours.
Confirming the accident to ZANIS in Chifunabuli yesterday, Chifunabuli Acting District Commissioner Mulenga Muonga says the six met their fate while sleeping in their grass thatched house.

"I can confirm that a report has been received from Chifunabuli Police to the effect that six people, five from the same family and another male adult only identified as Tembo perished last night after suspected lightning hit and burnt their grass thatched house following some rains which were experienced in the district," Mr Muonga revealed.
Mr Muonga has further identified the family as Memory Chola 29, together with her four children and a Mr Tembo who is suspected to be the boyfriend to Memory Chola.
---