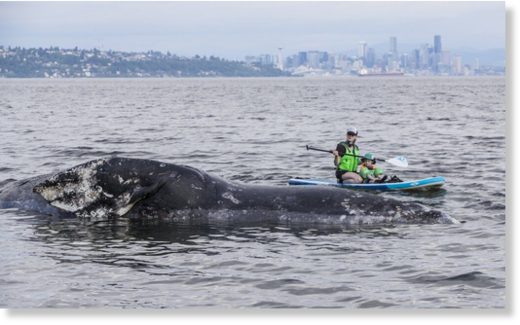 Continuing an
unusual die-off of gray whales
, a carcass washed ashore on Bainbridge Island's Manitou Beach on Tuesday.
The whale is a 42-foot long adult female, and had been dead for a while, said Michael Milstein, spokesman for the National Oceanic and Atmospheric Administration (NOAA) Fisheries West Coast region.
It was not immediately clear how this whale died, he said. A team from the nonprofit Cascadia Research Collective visited the carcass to take photos and samples of its skin and blubber Tuesday, he said. Examination of the whale found no external signs of ship strike or entanglement.
The blubber was fibrous and dry, which suggests the whale was not getting enough to eat. A more thorough examination of the whale will take place later this week, when the whale is relocated.