Two-week delay possible for hundreds of thousands; new deaths feared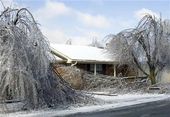 Cadiz, Kentucky - Hundreds of thousands of ice storm victims hunkered down in frigid homes and shelters Thursday, expecting to spend at least a week without power and waiting in long lines to buy generators, firewood, groceries and bottled water.
Utility companies in Missouri, Kentucky, Ohio, Arkansas and West Virginia warned that many of the estimated 1.3 million homes and businesses left without electricity wouldn't have power back before Saturday at the earliest, and at worst, as late as mid-February.
Utilities typically count 3 or 4 people per home so the outage in terms of people is significantly greater than 1.3 million homes and businesses.
Story continues below ↓advertisement | your ad here
Already, the situation was becoming dire for some communities in Kentucky, where the power outages crippled pumping stations and cut off access to water.